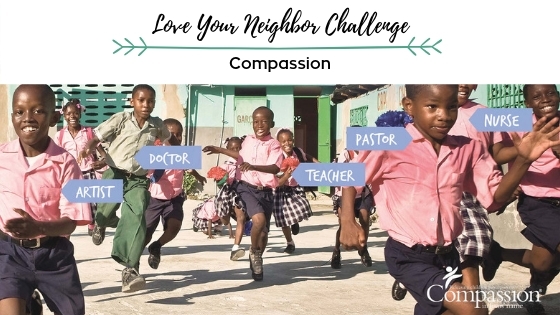 Another Love Your Neighbor challenge is to check out Compassion.com and become more aware of their amazing ministry! There are lots of ways to support Compassion's ministry to children all over the world but choosing to financially support a child will have an impact on your family as well as that child and his or her whole family!
My husband and I have been blessed by sponsoring three Compassion children throughout our marriage! Even when things were tight, we kept supporting these kiddos, because we believe it has been part of our calling as a family. We began our marriage supporting a young boy from Africa and, sadly, his aunt took him out of the Compassion program because she was Muslim. We had many good interactions through our letters before our communication ended and I pray that God has continued to cultivate growth in his life from the seeds that Compassion planted.
When he was taken from the program, we chose to support a young man who was 13 at the time. We were working in youth ministry and thought it would be cool continuation of our ministry to support an teenager. When he graduated from the program, he wrote us one last letter that said,
"I got my diploma in mechanics from technical school and am looking for a job. You helped me a lot… may God bless (you) all your lifetime! Do the same as you did (for) me. There are other needy children who badly (need) your support."
What a cool experience to get to watch God grow this boy into a man. I love that his heart and thoughts were turned towards others in need as he graduated!
Our daughter was 5 or 6 at this time and we let her choose a little girl her age for us to support as a family. She chose a sweet girl in Bolivia and we have been praying for and supporting her for about six years. It is good for our children to watch someone from another country and culture grow in her faith and stature! She loves art and often she and our children will send pictures back and forth and talk about what they are learning in school or from the Bible. I love that Compassion has helped our children gain a wider global perspective!
There are many great organizations who have support programs for children, but we believe in Compassion because we have seen its fruit in three sponsored children and in our own!
But Jesus called the children to him and said, "Let the little children come to me, and do not hinder them, for the kingdom of God belongs to such as these. Truly I tell you, anyone who will not receive the kingdom of God like a little child will never enter it." Luke 18:16-17
What do you do to help your children have a global perspective of loving their neighbors?